Availability:
In stock, available for the same day shipping (only 81 left).
---
Quick Links
Product Overview
This unit does NOT support an adapter for any other mask.
Achieving new heights in patient-centered innovation, AirMini packs ResMeds clinically proven CPAP (continuous positive airway pressure) technology along with its comfort and ease-of-use features into a sleek, portable, pocket-sized device ideal for traveling.
The AirMini is available with ResMeds proprietary AutoSet functionality as well as an innovative, built-in humidification system for patient comfort. AirMini weighs a mere 0.66 pounds (300 grams) and measures just 5.4 x 3.3 x 2 in (13.6 x 8.4 x 5.2 cm).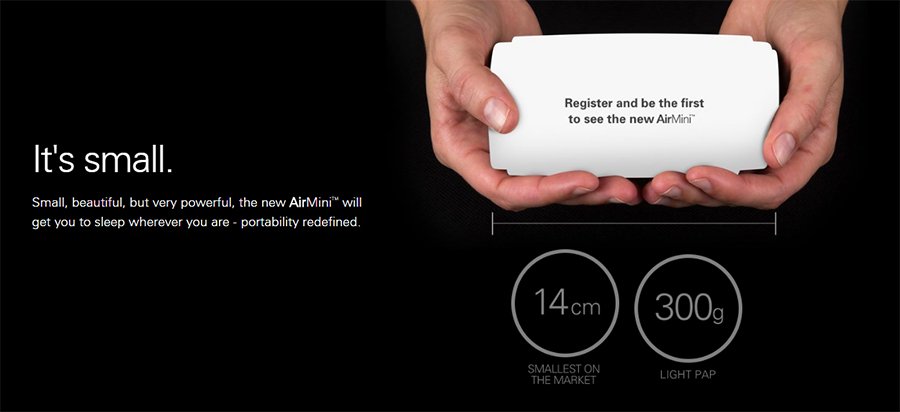 The ResMed AirMini has redefined CPAP therapy providing patients with peace of mind, knowing they can easily get ResMed-quality therapy wherever they are, said Mick Farrell, ResMed CEO. CPAP is now more portable and accessible than ever before. I have been traveling all over the world with a prototype of the AirMini system, using AutoSet, humidification, and an AirFit P10 pillows mask, and it has changed my travel life. I am so excited to see that this technology is now available to many millions of sleep apnea patients.



In a recent survey, 65% of CPAP users said device size is the #1 reason they don't take their CPAP every time they travel, breaking the cycle of adherence and exposing themselves to sleep apnea chronic effects: they stop breathing repeatedly throughout the night, unconsciously transitioning between moments of sleep suffocation and jolts of awakening to resume breathing.




This may cause dangerous levels of daytime fatigue and raise the risk of developing other fatal conditions like type 2 diabetes and heart failure.




AirMini comfort and ease-of-use features are ideal for patients and for home medical equipment providers who will benefit from the device as a growth driver for their business: A phone app (iOS and Android) for patients to change comfort settings and track their own nightly usage data, a practice that shown to increase compliance and health outcomes.




Portable and convenient waterless humidification to maximize comfort, capturing a patient's exhaled heat and moisture with a HumidX humidifier in the mask tube and redelivering it to them.



Compatibility with ResMed AirFit N20 nasal and F20 full face masks ONLY, easy for home medical equipment providers to fit on a wide range of patients (an unprecedented 99 and 97 percent of patients, respectively) as well as a special AirMini version of the award-winning AirFit P10 nasal pillows mask.



Please Note: OHIP & ADP funding are NOT AVAILABLE FOR THIS UNIT.


Key Points:



AirMini is the world's smallest CPAP weighing 300g (0.66lbs)!! A true travel CPAP




AirMini has 3 modes built in CPAP, AutoSet, AutoSet for Her (4-20cmH20 range of pressure)




AirMini has all the comfort features you are used to in a CPAP - EPR, Ramp, AutoRamp, Response




AirMini incorporates ResMeds new ActiveAir venting technology and waterless humidification with HumidX




AirMini works with ResMed's newest masks: AirFit P10, AirtFit N20, and AirFit F20




AirMini has built-in Bluetooth and works with the AirMini APP (available on the APP store and Google Play)





Service & Support
Replacement Parts
Part #
Description
Price
RM-38816
AirMini Filters
12/pk
Catalog:

$48.00


Online: $36.00

RM-38815
AirMini Filters
2/pk
Catalog: $9.60

RM-38813
AirMini HumidX Plus
6/pk
Catalog: $72.00

RM-38812
AirMini HumidX Plus
3/pk
Catalog: $30.00

RM-38810
AirMini HumidX Standard
6/pk
Catalog: $52.00

RM-38809
AirMini HumidX Standard
3/pk
Catalog: $27.50

Accessories
Part #
Description
Price
RM-38824
AirMini P10 Mask pack, includes P10 mask for AirMini

Catalog: $195.00

RM-38823
AirMini N20 Setup Pack, does not include mask

Catalog:

$92.00


Online: $85.00

RM-38825
AirMini F20 Setup Pack, does not include mask

Catalog: $52.00

RM-38840
AirMini Premium Carry Bag

Catalog: $75.00

RM-38841
AirMini Hard Travel Case

Catalog:

$45.00


Online: $35.00

RM-38842
AirMini Mount System

Catalog:

$75.00


Online: $55.00

RM-38839
AirMini DC/DC Converter

Catalog:

$135.00


Online: $112.00

Packing List
| | |
| --- | --- |
| | 1 machine with carry bag (more to be described soon) |
The manufacturer recommends that new patients purchase their devices, masks and initial accessories from a homecare company that can provide an individualized patient equipment setup, clinical and after-sales support, and a program to assist patients with therapy success.
CPAP Clinic meets this set of requirements by providing you with the following services:
at-home visit for personal assistance and training
unlimited toll-free telephone support before and after sale
unlimited email support before and after sale
appropriate CPAP and Auto-CPAP set-up according to prescribed pressure setting
CPAP Users Testimonials
Good price and Excellent service
I bought a Respironics white performance hose. I have used this hose for years and was happy to find them online here. Great price! Great service! Fast delivery! I will shop here again. Thank you.
guest Toronto, Ontario
I needed a new mask and wanted to test out a few. I landed up spending a lot of time trying out 3 masks and was treated with courtesy and patience even though I took a long time trying them on. I finally made a decision and was reminded of the 30 day trial period. Am very happy with the service and the price. Cpapclnic is now my new supplier
gillian thornhill
Purchased a cartridge filter kit for my SoClean 2. Service was better than expected. The item shipped immediately and received promptly. I could not have expected better and will definitely use CPAP Clinic again for any of my CPAC equipment purchases. Thank you CPAP Clinic, for the great service!
Juan Toronto
---
---
Join Our Social Network!!!
and you can share your experience there...

&nbsp
If you have any questions, please don't hesitate to contact us,
Call: 1-877-430-CPAP(2727) or Email: info@cpapclinic.ca
We Sell:
cpap masks auto-cpap (APAP) machines accessories in toronto mississauga ontario etobicoke online cpap shop store healthcare homecare headgear cpap mask replacement parts cushions replacement cpap pillows replacments cpap filters replacment tubings hoses air tubes chin strap CPAP humidifiers water chambers snoring solutions sleep disordered breathing dental appliances for OSA anti-snoring devices
Our services:
Focusing on patients care we offer at-home sleep apnea screening, setups and mask fitting at-home during extended business hours.
You
can
rent
or have a
trial
of new technology to try and feel the difference.
Toll-free: 1-877-430-CPAP(2727) | Fax: 1-888-477-7739 | Email:info@cpapclinic.ca
© ResMed 2009-2019. Images used under license.